---
Festivals of India: Ganesh Festival
by Smt. Anjali Ambekar
---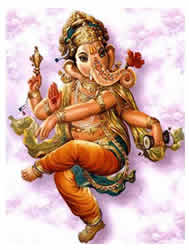 Ganesh Festival
In India religion is still a living force and Indians appreciate and cultivate the festival spirit even in this age of globalization. Ganpati Festival is a colourful festival, very popular in our country.
While celebrated all over India, it is most elaborate in Maharashtra, Goa ( Biggest festival for people from Konkan and all over the world ) Gujarat, Karnataka and Andhra Pradesh, and other areas which were former states of the Maratha Empire. Wherever Maharashtrians go on this planet they celebrate this festival religiously & enthusiastically; be it USA, Europe, Australia, Africa or Middle East.
History
The Ganesh-utsav was celebrated at the houses of leading Sardar families of Maratha period like Patwardhan, Mujumdar, Khasgiwale etc… It is interesting to note that the festival was not celebrated in a public manner until this time but was a family affair among Hindus, who used to celebrate it in a traditional manner.
In 1893, Sardar Nanasaheb Khasgiwale for the first time celebrated the utsav in Pune as a public festival and that year 3 more Sarvajanik Ganesh utsavas were celebrated by Ghotawdekar, Khasgiwale and Bapu Rangari. For the first time on immersion procession was also taken out on the roads.
The well known freedom fighter and statesman, Lokmanya Bal Gangadhar Tilak, realized that Ganesh Festival would be a way of uniting people in a common cause and in this manner a possible means of bringing about political consciousness under the guise of a religious celebration, with freedom for India being the ultimate goal. He started celebrating Ganeshotsav as a public festival by establishing a Sarvajanik Ganpati at Vinchurkarwada in 1894 and today it is the most popular event in the State.
Ganesh festival begins on Ganesh Chaturthi - 4th day of Bhadrapada Shukla (Shuddha) Paksha, when Ganesh Pratishthapana is performed and the festival is concluded with the Ganpati Visarjana (immersion procession) on Anant Chaturdashi (14th day of Bhadrapada Shukla Paksha). However, some people do immersion after one & a half day, some do it after 3 days, 5 days, 7 days & so on… depending on the tradition of the family or the Mandal.
Significance of Ganesh Chaturthi
Ganesha, the lord with elephant head riding on a mouse, is mostly loved God of Hindus worshipped for success (Sidhi) in undertakings, and intelligence (Buddhi). Ganpati is praised before any venture is started and known as the God of education, knowledge and wisdom, literature, and the fine arts.
Ganesh Chaturthi holds utmost significance among the followers of Lord Ganesha. Lots of preparations are made to celebrate this auspicious occasion: large public processions, pooja ceremonies, social get together, erection of giant size mandpas and special religious ceremonies are organized. Apart from a big occasion, Ganesh Chaturthi has also become a very important financial activity. Thousands of artists & small and medium industries eagerly wait for this mega occasion.
Lord Ganesh
Ganesha is the god of wisdom and prosperity and is invoked before the beginning of any auspicious work by the Hindus. It is believed that for the fulfillment of one's desires, his blessing is absolutely necessary. According to the mythology, he is the son of Shiva and Parvati, brother of Kartikeya - the general of the gods. There are numerous stories in Hindu mythology, associated with the birth of this elephant-headed god, whose vehicle is the Mooshak or rat and who loves Modaks. Many interesting legends about the birth and the greatness of Lord Ganesh are found in old ancient religious texts. He is considered to be the god of wisdom, prudence and prosperity. The worship of this god is coming down to us right from the Vedic times. Every religious ceremony is completed even today with invoking his blessings at the very beginning with the solemn recitation of "Om Ganeshaya Namaha" (I bow to Thee Lord Ganesh). It is believed that Lord Ganesh put down on paper the slokas of our great epic Mahabharat as Maharshi Ved Vyas dictated them to him. Sant Gyaneshwar's Gyaneshwari starts with praise of Lord Ganesh.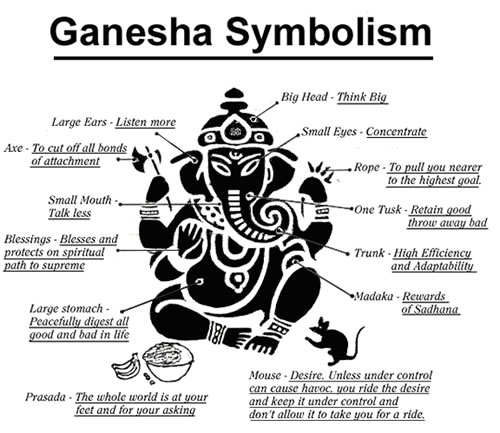 Shloka:
वक्रतुंडा महकाया सूर्या कोटि समप्रभा |
निर्विघ्नम कुरुमेदेव सर्वाकारयेशू सर्वदा ||
"Vakratunda Mahaakaaya, Sooryakoti-Samaprabha
Nirvighnam Kuru Me Deva, Sarva-Kaaryeshu Sarvadaa"
Meaning: Lord Ganesha has a curved trunk with a powerful body. He has the brilliance of a million suns. May the Lord, remove all the problems from the actions I aim to achieve.

Ganesh Puja
Ganesh Chaturthi starts with the installation of these Ganesh idols in colorfully decorated homes and specially erected temporary structures mandapas (pandals) in every locality. The pandals are erected by the people or a specific society or locality or group by collecting monetary contributions. The pandals are decorated specially for the festival, either by using decorative items like flower garlands, lights, etc or are theme based decorations, which depict religious themes or current events. The idols are worshiped with families and friends.
The priest, usually clad in silk dhoti and shawl, then invokes life into the idol amidst the chanting of mantras. This ritual is the Pranapratishtha. After this the ritual called as Shhodashopachara (16 ways of paying tribute) follows. Coconut, jaggery, 21 modakas, 21 durva (trefoil) blades of grass and red flowers are offered. The idol is anointed with red unguent, typically made of Kumkum & Sandalwood paste. Throughout the ceremony, Vedic hymns from the Rig Veda, the Ganapati Atharva Shirsha Upanishad, and the Ganesha stotra from the Narada Purana are chanted.
The Puja is performed by the head of the family and witnessed by family members, close friends within the household or an elaborate one, involving a priest who would come home and perform the Puja. The people gather around chanting Sanskrit shlokas when the idol is installed. Aarti (prayers and hymns in worship of Lord Ganesh) is done several times everyday day after that. After the Aarti, flowers, Haldi and Kumkum are offered to the women, and Prasad is distributed to all those present. 'Modak' is the most famous and most typical food preparation of Ganesh Chaturthi celebrations.
Ganesh Arti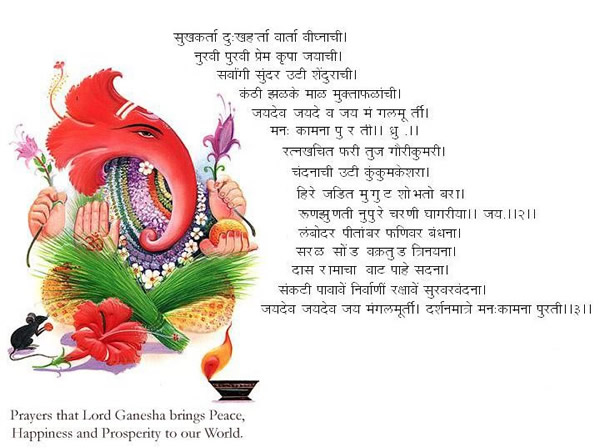 Ganesh Immersion
On the tenth day, huge processions carry images of the God to be disposed of into the river, sea or well for immersion or "Visarjan", hoping for them to return early next year.
In major cities of Maharashtra like Mumbai, Pune, Nashik, Nagpur, Aurangabad, Kolhapur, Solapur etc. the immersion process goes on for hours even over 24 hours. When the idols are immersed in the water, people sing, "GANPATI BAPPA MORYA, PUDHCHYA WARSHI LAVKAR YA," (This means to invite Lord Ganpati to arrive early the next year.
This festival is enjoyed by people of all ages. People visit each others' houses to have 'Darshan' of (to worship) Lord Ganpati in their house. Family gatherings, meetings with people make this festival truly a cultural and social affair. May be Ganesh festivals bring people together and make the nation move forward and grow.