---
Festivals of India: Janmashtami
by Smt. Anjali Ambekar
---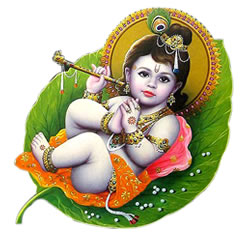 Janmashtami, one of the most popular festival of Hindus. They celebrate the birth of their beloved God, Shri Krishn on the eighth day (Ashtami) in the month of Shravana. Lord Shri Krishna was born on the 'Rohini' nakshatram (star). It is generally celebrated in the month of August-September. Krishna is the most popular deity throughout the whole of India and is considered as the eighth Avatar or incarnation of Vishnu, one of the Hindu Trinity. Legend has it that Shri Krishna was born on a dark, stormy and windy night to end the rule and atrocities of his maternal uncle, Kansa.
Birth of Shri Krishna:-
It is only at midnight between the first and the second day that birth of Shri Krishna took place. The actual festivities begin during midnight in this 48 hour period. The celebration reaches its peak at midnight, with the birth of Lord Krishna, with lot of hymns, arati taking place and blowing of the Conch (shankh), rocking the cradle of Lord. The idol of Lord is bathed with Panchamrita (A mixture of milk, ghee, curd, honey and Sugar). The Panchamrita is later distributed as Prasada to the devotees along with other sweets. While some Fast on the first day and break it at midnight for others the fasting continues for both days. Temples and homes all over India display jhankis (tableaux) showing important incidents from the Lord's life.
The Celebrations
Celebration of Janmashtami, birth of the famous Lord Krishna includes a number of ceremonies like, Rasalila, Jhankis (tableaux) etc. Dahi Handi is a popular ceremony, celebrated with lot of enthusiasm and glee. Dahi Handi is an enactment of Lord Krishna's efforts to steal butter from Matka (earthen pot) suspended from the ceiling.
Ceremony of Dahi Handi
Dahi Handi generally takes place on the second day of Janmashtami. An earthen pot containing a mixture of milk, dry fruits, ghee is hung around 20-30 feet high in the air with the help of a rope. Silver coins are hung along with the rope,which are later distributed as prize to the winners. Enthusiastic young men, form a human pyramid by standing one on top of the other, trying to break the pot. Onlookers throw water on the young men in order to prevent them from breaking the pot. Breaking of the pot is followed by prize distribution. Devotees believe that the broken pieces of earthen pot will keep away negative powers from their homes.
Dahi Handi is celebrated with fervor, especially in the twin cities of Mathura - Vrindavan, Dwarka and Mumbai. Young men in Mumbai yell 'Ala re ala, Govinda ala' during the ceremony.
An extremely euphoric atmosphere prevails in different cities of Maharashtra during the festival. The city of Mumbai experiences lot of enthusiasm among young men and boys who carry out the Dahi Handi ritual every year at various places.
Rituals and Customs of Janmashtami
Janmashtami festival witnesses many interesting customs and rituals in various states and cities of India. While some rituals are common to all, others are unique and restricted to a particular region or city. These customs and rituals are followed religiously by all the Lord Krishna devotees year after year.
Rituals and Customs Observed during Janmashtami
Fasting: The most common ritual observed all over during Janmashtami is fasting by devotees on the day of the festival. Devotees fast for the entire day and break it after the birth of Lord Krishna at midnight. People prefer to have only milk and milk products as they were the favourite of Lord Krishna. Some devotees of Lord Krishna go to the extent of keeping 'Nirjal' fast- It involves fasting without having a single drop of water. There are other ardent followers, who keep the fast for two days in the honour of Lord Krishna.
Chanting:
Devotees indulge in continuous chanting all day long. They chant mantras and shlokas to please the Lord. Religious atmosphere prevails everywhere. Devotees highlight his feats and his divine characteristics. Chanting of 108 names of Lord Krishna is another ritual that takes place in various temples. Chanting of names is accompanied by showering of flowers on the idol of Lord Krishna.
Devotional Songs and dances
Another popular ritual is singing of songs (bhajans) in the praise of Lord Krishna. Bhajans are an important custom of the midnight celebration during the festival. Dances are also performed by devotees depicting the various events of Lord Krishna.
Preparation of Sweets
According to legend, Lord Krishna was very fond of milk and milk products like butter and buttermilk. He was also fond of Sweets like Kheer, Pedhas etc. Therefore devotees all over make sweets during the festival to please the Lord.
Performing Rasaleela
One of the most important aspects of the festival Janmashtami is Rasaleela. Rasaleela is a divine sport (Kreeda), which Shri Krishna played with his gopis on the banks of river Yamuna in Vrindavan. Radha was the closest one to the Lord. Her love for Lord Krishna was complete and in its purest form. Shri Krishna was ten years old when he performed Rasaleela. Rasaleelas are particularly performed in the city of Vrindavan.
Teachings of Lord Krishna
Lord Krishna, is the one of the most loved Gods of the Hindu religion. His teachings on various aspects of human life to Arjuna during the epic battle of Mahabharata are world famous. His teachings were written in form of a book by famously known as Bhagwad Gita. Bhagwad Gita literally means divine songs of Lord. Teachings of the lord, are relevant even in the present age. They are being promoted by a number of spiritual gurus. Few of his important teachings are as follows:
Four Kinds of actions: According to Lord Krishna there are four kind of Actions or Karma that a human can perform they are, Kamya Karma- Actions performed for selfish gains, Nishiddha Karma- Actions that are forbidden by holy texts and scriptures, Nitya Karma- Actions that must be performed daily and finally Naimittika Karma-Actions that must be performed on certain special occasions. Lord Krishna clearly forbade his devotees to perform the first two kinds of Karmas as they lead to rebirth and laid stress on the performance of the latter two as they help in getting Moksha or Nirvana, in other words, salvation.
Liberation and Bondage: Lord Krishna emphasised on being free from all kinds of negative and positive emotions like, joy, sorrow, grief, happiness, jealousy, as they are all illusions or maya. These emotions are ephemeral. All the beings are bonded due to lack of knowledge but they get free and achieve liberation once they realize that the world is nothing but illusion. All the souls taking birth on the Earth must surrender to Lord, be free form attachments to living and non living objects. One should not be conditioned by body or the worldly things around.
Glory of Satsanga: Lord Krishna described, 'satsanga' as the fastest means to be closer to him and please him. Satsanga literally means being in the company of Sadhus or the knowledgeable one, as it helps in reducing and finally putting an end to attachment of all kinds.
Withdrawal from Sense-Objects: Lord Krishna preached withdrawal from all the sensory- objects as a means to avoid delusion. All the objects of desire ultimately lead to misery. One must control his senses and not run after the pursuit of desires. As soon as one of the desires is fulfilled, another desire takes its place thus creating a vicious circle. One should give up his Ego and identify only with God.
Importance of Meditation: Lord Krishna emphasises on the benefits of meditation. It is a means of introspection, looking inside oneself, being close to God and removing oneself from the materialistic world. One should sit in a comfortable position, placing both the hands on the lap and fixing the eyes on the tip of the nose, followed by deep breathing. The mind should be free from all thoughts and chanting only the universal sound of 'Om'.
Path to Life Long Happiness: Lord Krishna describes, Karma(action) Jnana (Knowledge) and Bhakti (Devotion) as the three fold way to attain Lord and please him. This is sure shot way to achieve happiness and Moksha. Being knowledgeable will help perform the right Karma and not worry about the fruit of the action. Devotion to God helps introspect and remove from the worldly desires. The three paths lead to removal of illusion or maya.