---
Festivals of India: Navaratri
by Smt. Anjali Ambekar
---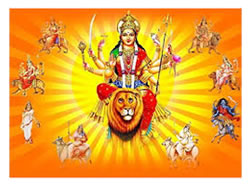 Durga Puja is one of the most important festivals in India. Durga Puja is more than a festival; it is a celebration of life, culture, popular customs and traditions. It is a time of reunion and rejuvenation to love, to share and to care.
About Goddess Durga:-
Durga, in Sanskrit means "She who is incomprehensible or difficult to reach." Goddess Durga is a form of Shakti worshiped for her gracious as well as terrifying aspect. Mother of the Universe, she represents the infinite power of the universe and is a symbol of a female dynamism. She is also called by many other names, such as Parvati, Ambika, and Kali.
A manifestation of Shakti is held in worship all over India. Durga is regarded as the invincible power of nature and is associated with the legend of the destruction of the demon.
Mahishasura:-
Durga is a ten handed goddess modelled out of clay astride a lion. Each of those hands holds a weapon (Sword, Conch, Discus, Rosary, Bell, Winecup, Shield, Bow, Arrow, and Spear) in them except two, which hold a spear struck into the chest of the demon, Mahishasura. The face of Durga exudes more motherly feelings than that of a demon killer – she appears to be unbeatable and dangerous, yet caring.
Navratri:-
The Nine-day period from the new moon day to the ninth day of Ashvina is considered the most auspicious time of the Hindu Calendar and is hence the most celebrated time of the year as Durga Puja.
What is Navratri? It actually comes from two words, 'Nav', which means nine and 'Ratri' which translates to nights. So it is the nine days devoted to the propitiation of Shakti or Divine Mother. Navratri, the festival of nights, lasts for 9 days with three days each devoted to worship of Ma Durga, the Goddess of Valor, Ma Lakshmi, the Goddess of Wealth and Ma Saraswati, the Goddess of Knowledge.
We wish to enlighten you on the real meaning of this unique event.Navaratri is the festival for praying to Mother Goddess and doing Devi Upasana to purify us,remove our ignorance and give us the strength to fight evil in the world. Every Indian ritual, pooja and festival invariably has a really scientific basis and true inner significance.
Navratri Puja:-
Devotees perform the 'devi-sthaapna' in their homes wherein they invite the Goddess and perform 'pooja-path' for nine days. Gujaratis perform their traditional dances 'Garba' & 'Dandiya-Raas' during Navratri. The women-folk dance in a circle, singing 'Garbas'.
Dandiya-Raas' is played with wooden sticks or 'dandiyas'. Apart from Gujrat,Garbas are performed in other states & cities like Mumbai. Young men-women wear colourful traditional dresses and play Garba with great enthusiasm.The mood of Navratri is very colourful & unique.
The nine nights during Navaratri represent the Nava-durga or the nine manifestations of Durga.
These are the most popular forms under which she is worshiped:
Shailputri
Brahmacharini
Chandraghanta
Kushmanda
Skanda Mata
Katyayani
Kalaratri
MahaGauri
Siddhidatri
She is a daughter of Himalaya and first among nine Durgas. In previous birth she was the daughter of Daksha. Her name was Sati - Bhavani. i.e. the wife of Lord Shiva. Once Daksha had organized a big Yagna and did not invite Shiva. But Sati being obstinate, reached there. Thereupon Daksha insulted Shiva. Sati could not tolerate the insult of husband and burnt herself in the fire of Yagna. In other birth she became the daughter of Himalaya in the name of Parvati - Hemvati and got married with Shiva. As per Upnishad she had torn and the egotism of Indra, etc. Devtas. Being ashamed they bowed and prayed that, "In fact, thou are Shakti, we all - Brahma, Vishnu and Shiv are capable by getting Shakti from you."
Brahmacharini
The second Durga Shakti is Brahamcharini. Brahma that is who observes penance(tapa) and good conduct. Here "Brahma" means "Tapa". The idol of this Goddess is very gorgeous. There is rosary in her right hand and Kamandal in left hand. She is full with merriment. One story is famous about her. In previous birth she was Parvati Hemavati the daughter of Himvan. Once when she was busy in games with her friends. Naradaji came to her and predicted seeing her Palm-lines that, "You will get married with a naked-terrible 'Bhole baba' who was with you in the form of Sati, the daughter of Daksh in previous birth. But now you have to perform penance for him." There upon Parvati told her mother Menaka that she would marry none except Shambhu, otherwise she would remain unmarried. Saying this she went to observe penance. That is why her name is famous as tapacharini - Brahmacharini. From that time her name Uma became familiar.
Chandraghanta
The name of third Shakti is Chandraghanta. There is a half-circular moon in her forehead. She is charmful and bright. She is Golden color. She has three eyes and ten hands holding with ten types of swords - etc. weapons and arrows etc. She is seated on Lion and ready for going in war to fight. She is unprecedented image of bravery. The frightful sound of her bell terrifies all the villains, demons and danavas.
Kushmanda
Name of fourth Durga is Kushmanda. The Shakti creates egg, ie. Universe by mere laughing .She resides in solar systems. She shines brightly in all the ten directions like Sun. She has eight hands. Seven types of weapons are shining in her seven hands. Rosary is in her right hand. She seems brilliant riding on Lion. She likes the offerings of "Kumhde." Therefore her name "Kushmanda" has becomefamous.
Skanda Mata
Fifth name of Durga is "Skanda Mata". The daughter of Himalaya, after observing penance got married with Shiva. She had a son named "Skanda." Skanda is a leader of the army of Gods. Skanda Mata is a deity of fire. Skanda is seated in her lap. She has three eyes and four hands. She is white and seated on a lotus.
Katyayani
Sixth Durga is Katyayani. The son of "Kat" as "Katya". Rishi Katyayan born in this "Katya" lineage. Katyayan had observed penance with a desire to get paramba as his daughter. As a result she took birth as a daughter of Katyayan. Therefore her name is "Katyayani" . She has three eyes and eight hands. These are eight types of weapons missiles in her seven hands. Her vehicle is Lion.
Kalaratri
Seventh Durga is Kalratri. She is black like night. Durga hairs are unlocked. She has put on necklaces shining like lightening. She has three eyes which are round like universe. Her eyes are bright. Thousands of flames of fire come out while respiring from nose. She rides on Shava (dead body). There is sharp sword in her right hand. Her lower hand is in blessing mood. The burning torch (mashal) is in her left hand and her lower left hand is in fearless style, by which she makes her devotees fearless. Being auspicious she is called "Shubhamkari."
MahaGauri
The Eighth Durga is "Maha Gauri." She is as white as a conch, moon and Jasmine. She is of eight years old. Her clothes and ornaments are white and clean. She has three eyes. She rides on bull She has four hands. The above left hand is in "Fearless - Mudra" and lower left hand holds "Trishul." The above right hand has tambourine and lower right hand is in blessing style. She is calm and peaceful and exists in peaceful style. It is said that when the body of Gauri became dirty due to dust and earth while observing penance, Shiva makes it clean with the waters of Gangas. Then her body became bright like lightening. There fore, she is known as "Maha Gauri" .
Siddhidatri
Ninth Durga us Siddhidatri. There are eight Siddhis , they are- Anima, Mahima, Garima, Laghima, Prapti, Prakamya, Iishitva & Vashitva. Maha Shakti gives all these Siddhies. It is said in "Devipuran" that the Supreme God Shiv got all these Siddhies by worshipping Maha Shakti. With her gratitude the half body of Shiv has became of Goddess and there fore his name "Ardhanarishvar" has became famous. The Goddess drives on Lion. She has four hands and looks pleased. This form of Durga is worshiped by all Gods, Rishis-Munis, Siddhas, Yogis, Sadhakas and devotees for attaining the best religious asset.
Durga puja Celebration :-
During Durga puja the idols of Goddess Durga are worshipped for nine days in beautifully decorated 'pandaals'. It is a public festival. On the tenth day,the 'Visarjan' or immersion of idols in sea waters is performed. Durga puja has come to be associated with a grand exhibition of cultural functions.
Durga Puja is identified by different regional names throughout India. This diversity across various states binds the people in a unique way.
The various distinct regional names of this festival are:

Durga Puja
Navratri Puja
Kullu Dussehra
Mysore Dussehra
Bommai kolu
ayudha Puja
Vidyaramba
Saraswati Puja
Simollanghan
In Hindu homes the eighth day or NAVAMI prayers are offered to Goddess Saraswathi the Goddess of learning, seeking knowledge.
Books of children and youngsters as well as musical instruments are placed before the Goddess on that day and pujas performed. Hindus believe that the Goddess resides in books, in all forms of reading / learning material as also in musical instruments. Saraswathi is said to be a lover of music. The placing of these items in worship is therefore a sign of respect to those forms that impart knowledge to us.
Literates, in general write the alphabets on sand and read a few sentences from sacred books.. At this auspicious moment the children for the first time are given instructions to write the first few alphabets on rice or sand. They are thus initiated into the world of knowledge. This is called 'Ezhuthinu Iruthu' and according to custom only after this ceremony child becomes entitled to write or read.
Dasara:-
Also commonly known as Vijaya Dashmi, this festival occurs on Ashvin shuddha dashami. In ancient times kings used the feast of Dasara to cross the frontier and fight against their neighboring kingdoms. This border crossing is known as "Simollanghan". Thus Dasara also marks the beginning of the war season.
Mythology :-
There are many stories related to this festival:
As we saw in Navratri, the Lord's Shakti, Parvati, vanquished the demon Mahishasur on the tenth day after a nine-day battle. This is cited in the Skanda Puran. The sentiment here is that the uncontrolled indriyas are only conquered by the Lord's Shakti.
On this day Lord Ram vanquished Ravan. Therefore people celebrate the Lord's victory by burning Ravan's effigy on this day.
On this day, Arjun picked up his weapons hidden on the Shami tree, to battle with Duryodhan in order to retrieve Virat Raja's cows from him.
Thus 'Vijaya Dashami' means victory on the tenth day. The basic purpose behind this festival is to worship feminine principle of the Universe in the form of the divine mother to remind the teachings of the Taitareeya Upanishad, "Matru Devo Bhava." Essence of the navaratri celebration at social level is to remind & respect all the women, who are the guardians of the family, culture, and national integrity, to take lead in times of crisis to guide the humanity towards the path of social justice, righteousness, equality, love, and divinity. Buses, trucks and huge machines in factories are all decorated and worshipped. Dasara is the festival of Victory of Good over Bad, God over Devil.