---
Festivals of India: Mahashivaratri
by Smt. Anjali Ambekar
---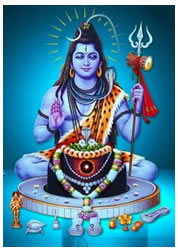 Mahashivaratri
ॐ नमः शिवाय
Mahashivaratri Festival or the 'The Great Night of Shiva' is celebrated with devotion and religious fervour in honour of Lord Shiva, one of the deities of Hindu Trinity. Shivaratri falls on the 14th day of the Krishna Paksha (Dark fortnight) in the Hindu month of Phalguna ( Magha as per Vikrama calendar ), which corresponds to the month of February - March in English Calendar.
Shiva Purana says that performing abhisheka of Shiva Linga with five different dravyas (milk, curd, honey, ghee and sugar) and water while chanting Sri Rudram, Chamakam and Dasha Shanthi pleases Lord Shiva the most. According to the mythology, each of these dravyas used in the abhisheka bestows certain welfare :-
Milk is for the bestowing of purity and piousness.
Curd is for prosperity and progeny.
Honey is for sweet speech.
Ghee is for victory.
Sugar is for happiness.
During this worship, Lord Shiva is offered special food made from the fruits of the season, root vegetables and coconuts. After this, Bilwa leaves, are offered to the Shivalinga. Ber or jujube fruit is also offered to Lord Shiva, as it is symbolic of longevity and gratification of desires. Some devotees also offer the auspicious betel leaves to Lord Shiva marking satisfaction with worldly pleasures. Garlanding of Linga with flowers and garlands is also a part of the Shivaratri Puja. Devotees also burn incense sticks and light lamps which symbolize the attainment of knowledge.
This worship of Lord Shiva continues through out the day and night of Shivaratri. Devotees stay awake and spend the night in Shiva temples, chanting 'Om Namah Shivaya' and singing hymns and verses in praise of Lord Shankara.
Shivaratri Celebrations by Women
Shivaratri Festival is particularly awaited by Hindu women. On Shivaratri, married as well as unmarried women perform puja with great faith, as Goddess Parvati who is also called 'Gauri', is regarded as the giver of 'suhag' (i.e.Saubhagya - good husband ), marital bliss and a long and prosperous married life. Unmarried women also pray for good husband like Lord Shiva who is regarded as the ideal husband.
Shivaratri Fast
Shivaratri Fast is considered to be the most important fast for the devotees of Lord Shiva. Shiva Purana goes on to say that if a devotee observes Shivaratri Vrata with sincerity, pure devotion and love, he is blessed with the divine grace of Lord Shiva. Though many go on a diet of fruits and milk, some do not consume even a drop of water all through the day and night of Shivaratri Festival. Devotees observing Vrata on Shivaratri break it only the next morning by partaking prasada offered to Lord Shiva.
Mahashivaratri Vrata
Mahashivaratri or 'Shiva's Great Night' symbolizes the wedding day of Lord Shiva and Parvati. Many however, believe, Mahashivaratri is the night when Lord Shiva performed the Tandava Nritya - the dance of primordial creation, preservation and destruction.
According to Hindu mythology, observance of Mahashivaratri Vrata with discipline helps a devotee to control the two great natural forces that afflict a man, rajas guna (the quality of passionate activity) and tamas guna (the quality of inertia). When a devotee spends an entire day in the Feet of Lord and worships with sincerity, his motion is controlled and evils like lust, anger etc. born of Rajas are ignored and subdued. Besides, when a devotee observes vigil throughout the night (jaagaran) he manages to conquer the evils of Tamas Guna too. It has also been mentioned that when a devotee observes a round of worship every three hours, the Shivaratri Vrata becomes perfect. It says that a devotee who performs sincere worship of Lord Shiva on the auspicious day of Shivaratri is absolved of sins and attains moksha.
Tradition of Drinking Thandai
Since Lord Shiva is regarded as an ascetic god, Mahashivaratri is very popular among ascetics. Thandai, a drink made with bhang (cannabis), almonds, and milk, is essentially drunk by the devout on the day as cannabis is said to have been very dear to Shiva.
The Significance of Mahashivaratri :
There are several stories which are associated with this special grand night of Lord Shiva:
Samudra Manthana Story:
During Samudra Manthan performed by the gods and demons, a highly toxic poison came out of the ocean. As per the advice of Lord Vishnu, gods approached Lord Shiva and prayed him to protect life by consuming this poison. Pleased with their prayers, out of compassion for living beings, Lord Shiva drank this poison and held it in his throat by binding it with a snake. The throat became blue due to the poison (Thus Lord Shiva is also known as Neelakantha) and Shiva remained unharmed. The wise men advised gods to keep Lord Shiva awake during the night. To keep him awake, the gods took turn performing various dances and playing music. A vigil was thus kept by the gods in contemplation of Shiva. As the day broke out, Shiva, pleased with their devotion blessed them all, and also said that whosoever worshipped & contemplated on him on this day shall be blessed with the fulfillment of his or her wishes. Since then, on this day and night - devotees fast, keep vigil, sing glories of Lord and meditate.
Manifestation of Lord Shiva as a Jyotirlinga on this day:
On this day manifested the first ever great effulgent (Jyotirmaya) form (Anala-skandha or a pillar of fire) of Lord Shiva in front of Lord Vishnu & Brahma.
The story goes on that once both Vishnu & Brahma got infected by ego. That resulted into a clash between both these gods. In order to show their respective superiority they decided to fight it out. Lord Shiva decided to intervene so as to make them realise that there is something more to life than the powers of an embodied beings. He manifested in the form of a huge pillar of fire (Anala-skandha) whose beginning and end could not be seen. Vishnu & Brahma decided to check what this strange thing was. While Vishnu, in the form of Varaha (boar) went down towards Patala-loka to see the end of this pillar, Brahma sitting on his swan went up. Even after years of travel, they could not see the beginning or the end of this manifestation. Brahma saw a leaf falling off, and thought it fell down from the top of pillar of fire, and returned satisfied that he had seen the starting point. They came back, while Lord Vishnu accepted that he could not see the end, Brahma said that he had seen, which was a lie. Lord Shiva cursed Brahma that no will ever worship him. Then he too surrendered. This manifestation of Lord Shiva in the form of the first effulgent linga appeared on this special day of Mahashivaratri, and thus all devotees pray to the effulgent linga (Jyotirlinga) of Lord Shiva.
Day of Reunion of Shiva & Parvati:
Sati's father Daksha had opposed his daughter Sati's marriage with Shiva.After the marriage, at a Yajna (holy sacrifice), he (Daksha) ignored Shiva's presence and thereby insulted the latter publicly. Sati was angered by this and she jumped into the sacrificial fire and ended her life. Lord Shiva unleashed his fury at the death of his wife by performing the violent dance, Tandava. He wiped out Daksha's kingdom, undertook rigorous penance and retired to the Himalayas.
The Gods, who feared that the severity of Shiva's penance might bring an end to the world, revived Sati in the new avatara as Parvati. Shiva married Parvati and this reunion is celebrated on Mahashivaratri.
Story of Chitrabhanu:
In the Shanti Parvan of the Mahabharata, Bhishma, whilst resting on the bed of arrows and discoursing on Dharma, refers to the observance of Mahashivaratri by King Chitrabhanu. The story goes as follows.
Once upon a time, King Chitrabhanu of the Ikshvaku dynasty, who ruled over the whole of Jambudvipa, was observing a fast with his wife, it being the day of Mahashivratri. The sage Ashtavakra came on a visit to the court of the king. The sage asked, "O king! Why are you observing a fast today?"
King Chitrabhanu explained the reason there. He had the gift of remembering the incidents of his previous birth. The king said to the sage: "In my past birth, I was a hunter in Varanasi. My name was Suswara. My livelihood was on killing and selling birds and animals. One day, I was roaming in the forests in search of animals. I was overtaken by the darkness of night. Unable to return home, I climbed a tree for shelter. It happened to be a bel tree. I had shot a deer that day but I had no time to take it home. I bundled it up and tied it to a branch on the tree. As I was tormented by hunger and thirst, I kept awake throughout the night. I shed profuse tears when I thought of my poor wife and children who were starving and anxiously awaiting my return. To pass away the time that night I engaged myself in plucking the bel leaves and dropping them down onto the ground."
"The day dawned. I returned home and sold the deer. I bought some food for myself and my family. I was about to break my fast when a stranger came to me, begging for food. I served him first and then took my food."
"At the time of my death, I saw two messengers of Lord Shiva. They were sent down to bring my soul to the abode of Lord Shiva. I learnt then for the first time of the great merit I had earned by the unconscious worship of Lord Shiva during the night of Shivaratri. They told me that there was a Lingam at the bottom of that bel tree on which I had spent a night in past. The leaves I dropped fell on the Lingam. My tears which I had shed out of pure sorrow for my family fell onto the Lingam. And I had fasted whole day and night. Thus did I unconsciously worship the Lord."
"I lived in the abode of the Lord and enjoyed divine bliss for long ages. I am now reborn as Chitrabhanu. I have now realized about the infinite love & compassion of Lord Shiva. Even unconscious acts of goodness are blessed in such a way, then what to talk of our conscious acts of expressing our love, respect and reverence for Lord Shiva. He is indeed Ashutosha, one who gets pleased very soon."
Lord Shiva is indeed an embodiment of infinite love, love & compassion, that is why he is so easy to please. He showers his blessings upon us at every moment of our life, may we all devote this day of Mahashivaratri to express our gratitude unto his feet. It is a very auspicious day.
Story of Lubdhaka:
Another legend goes on like this. Once there lived a tribal named Lubdhaka, who was a devotee of Shiva. It was his usual practice to go into the forest to collect firewood. One day he wandered deeper than usual and night fell before he could come out. It was the night of dark fortnight and the thin crescent moon offered no light. He was not able to find his way in the dark and soon got lost. A hungry tiger smelt him out and with a loud roar made his intentions clear. Lubdhaka knew that he could not outrun the tiger and so he climbed up a bel tree. In order to keep awake so that he would not fall down in his sleep, he began to pluck the leaves from the bel tree and drop them one by one, each time chanting "Om Namah Shivaya", which means " Obeisance to Shiva." In this manner, he passed the night. Until dawn, he had dropped a thousand bel leaves. When he descended from the tree in the morning, he saw a lingam, which he had not noticed in the dark. Unknowingly he had been dropping leaves on the lingam. This was the 14th night of the waxing moon of the month of Phalguna and thus it came to be celebrated at Mahashivaratri.