Contributions like articles, book reviews, book abstracts, etc. are welcome from Library Members, Bhavan's staff, and friends and supporters of the Library.
---
Featured Books: डान् क्विक्षोटः Don Quixote
(Chapters I.2, I.3, I.8, I.10, I.16, I.17, I.18 & I.23)

---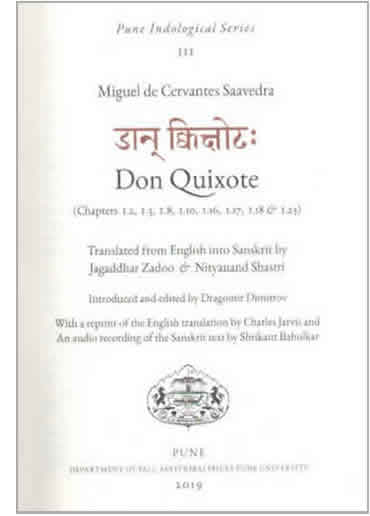 By Miguel de Cervantes Saavedra
Translated from English into Sanskrit by Jagaddhar Zadoo & Nityanand Shastri
Introduced and edited by Dragomir Dimitrov
With a reprint of the English translation by Charles Jarvis and
An audio recording of the Sanskrit text by Shrikant Bahulkar
Pune 2019
Pune Indological Series, vol. III
Hardcover, cx, 292 pp
21 illustrations in colour and halftone
Incl. audiobook (Total time: 5h 28min)
Publisher: Department of Pali, Savitribai Phule Pune University
ISBN: 978-81-941184-2-8
The book contains a Sanskrit translation of eight chapters from the First Part of Cervantes's monumental Don Quijote.
Kashmiri scholars, Pandit Nityanand Shastri and Pandit Jagaddhar Zadoo translated chapters I.2, I.3, I.8, I.10, I.16, I.17, I.18, and I.23 of Don Quijote from the English translation by Charles Jarvis prepared in the first half of the eighteenth century and edited by the British Hispanist James Fitzmaurice-Kelly in 1907 for the Oxford World's Classics series. In this book both the Sanskrit translation and the corresponding parts of Jarvis's English version are printed on facing pages.
This publication includes an overview of the reception of Cervantes's classic in India, as well as a detailed study of the fascinating history of the Sanskrit translation of Don Quijote and its still unedited partial rendering in Kashmiri. The book is accompanied by an audiobook containing the recording of the entire Sanskrit text.
"डान् क्विक्षोटः / Don Quixote" will appeal to specialists with interests in a variety of fields such as Sanskrit philology, modern Sanskrit studies, manuscriptology, history of Indology, languages and literature, as well as translational and cultural studies.